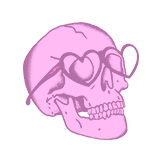 Hello, I'm Pew

I'm an old fat punk babe living and working in Montreal, Canada. I live with my two cats, my coffee addiction and my records in a cozy appartment in a charming neigborhood. I also really like death stuff, cheesy sci-fi movies and I could only eat tonkutsu ramen forever.

I studied fine arts and graphic design. I was really into screenprinting and I did alot of painting, started as a painter in my creative life, but I really loved illustration and design and fashion, so here we are. I started PEWPEWKID in 2018, affirming more my style and definitly bringing the ''IT'S NOT A PHASE MOM'' vibe to my work.
I'm inspired by aliens, feminism, activism, punk rock & stoner metal bands, old school tattoos, skulls and bones, wizards, all shades of pink, and food.

I hope you like what you see and thank you for stopping by! Cheers!



Hello, moi c'est Pew

Je suis une fat babe qui vit et travaille à Montréal, Canada. Je vis avec mes deux chats, mon addiction au café et mes cassettes. J'aime aussi beaucoup les têtes de mort, les films de science-fiction cheesy et je ne pourrais manger que du ramen tonkutsu pour toujours.

J'ai étudié les arts visuel et le design graphique. J'aimais beaucoup la sérigraphie et j'ai fait beaucoup de peinture au début de ma pratique, mais comme j'ai manqué d'espace pour tout cela, je me suis remise à l'illustration. Depuis j'ai pas arrêté de dessiner.
J'ai commencé PEWPEWKID en 2018, affirmant davantage mon style et apportant définitivement la vibe ''IT'S NOT A PHASE MOM'' à mon travail.

Je suis inspirée par les ovnis et l'espace, le féminisme, l'activisme, les groupes de punk rock & stoner metal, les crânes et les os, toutes les nuances de rose et la bouffe.

En espérant que tu aimes ce que tu vois. Cheers!